Join three mid career live event professionals for the critical conversations about theatre, dance, concerts, corporate events and everything in between. We are putting the conversations you might have across the street from from the stage door after a load out (or on zoom in 2020) into a podcast. The group responds to topics from the industry. The opinions in this podcast are of the speakers and do not reflect the opinions of any of our employers past, present, or future. Connect with us via email 801backstage@gmail.com
Episodes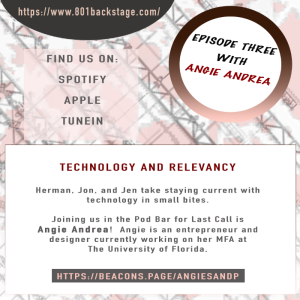 Friday Jun 11, 2021
Friday Jun 11, 2021
Herman, Jon, and Jen take staying current with technology in small bites.
Joining us in the Pod Bar for Last Call is Angie Andrea! Angie is an entrepreneur and designer currently working on her MFA at The University of Florida.  Check out all of her work at https://beacons.page/angiesandp
Got comments or questions? 801backstage@gmail.com 
Music: Dark-n-Stormy by Shane Ivers - https://www.silvermansound.com
.
.